At the end of 2022, clients of banks had cryptocurrency positions of roughly €91 billion ($96bn), according to the Basel Committee. Yesterday it released data for bank capital ratios for the second half of 2022. However, bank direct exposures to crypto-assets and digital asset custody dropped significantly and were already tiny. A combination of the Basel crypto rules and regulatory frictions are having an impact.
The $96 billion was the figure for 'other exposures' under the Basel rules, which mainly includes positions on behalf of clients. Seven banks in the Americas made up the whole amount. No other banks globally reported on this category. Prior periods show zero 'other exposures', implying banks have radically increased their client activity.
It's hard to compare across periods because the banks included in the figures may not be the same. And gathering data on the topic is still in its infancy. That said, we only compared June 2022 with December 2022 and the number of reporting banks in each region was the same.
Unsurprisingly, banks don't touch 'alt coins'. Bitcoin linked exposures represent $57.5bn and Ethereum linked products $36.5 billion. The remaining balance was in products linked to Ethereum Classic.
Direct bank exposure declines sharply
In contrast, the direct exposure of banks to crypto-assets was just €343 million globally across 13 banks, a decline of 69%. And more than a third of that was not cryptocurrency. Two banks in the Rest of the World (likely Asia) held €125 million in tokenized securities. Tokenized assets made up 98% of the Rest of World exposure, the only region that didn't fall sharply.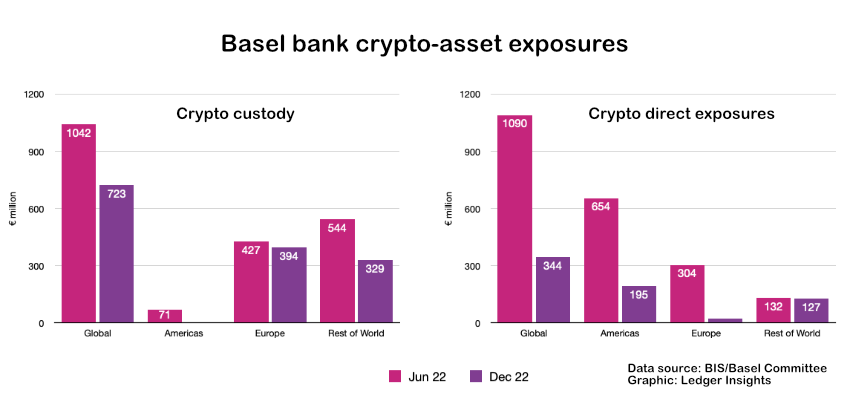 The number of European banks with direct crypto exposure dropped from four to two and from more than €300 million to negligible figures.
There were seven reporting banks in the Americas across both periods and the exposure dropped by 70% in the last six months to €200 million.
Bank digital asset custody also drops
Digital asset custody dropped by 40% in Asia, with two banks reporting for both periods. Europe fell a little, but the Americas reported zero crypto-assets under custody. 
In late March 2022, the U.S. SEC introduced an accounting rule that required all crypto-assets under custody to appear as an asset and liability on the balance sheet. Assets under custody belong to clients, so usually they are not included in the balance sheet.
U.S. banks interpreted this as requiring capital to be set aside under Basel rules – even though the international Basel crypto rules do not require this.
In a recent Senate hearing, SEC Chair Gary Gensler said that impacting Basel treatment was not the SEC's intent. Decisions on that are up to the banking regulators.
---