Last week, the Banco Central do Brasil delayed the timing of its digital real DREX pilot and suspended its LIFT Lab innovation project indefinitely. It's unclear whether staffing issues impacting the LIFT Lab may also be affecting the central bank digital currency (CBDC) pilot.
Digital real schedule pushed back
The first milestone for the digital real pilot has been delayed by three months. That's partly owing to a slow start in onboarding pilot participants and because the bank isn't yet satisfied with the privacy preserving technology it plans to use.
Fabio Araujo, the coordinator of the digital real initiative (DREX), described it as a "challenging project". Onboarding of the 16 pilot projects was planned to start in May but only commenced in July.
Additionally, the selection of privacy preserving technology has proven challenging. The central bank is talking to several providers, but is not yet seeing an adequate level of technology maturity.
Solution providers are addressing the issues raised by the central bank, but it takes time to test the changes.
Aristides Cavalcante, the head of cybersecurity and the technology innovation office, said, "We are not going to launch any solution without the necessary security," so delaying the deadline allows for more testing.
When the central bank unveiled concrete plans for the digital real last March, the aim was to complete the first phase in February 2024. That has been pushed back to May 2024.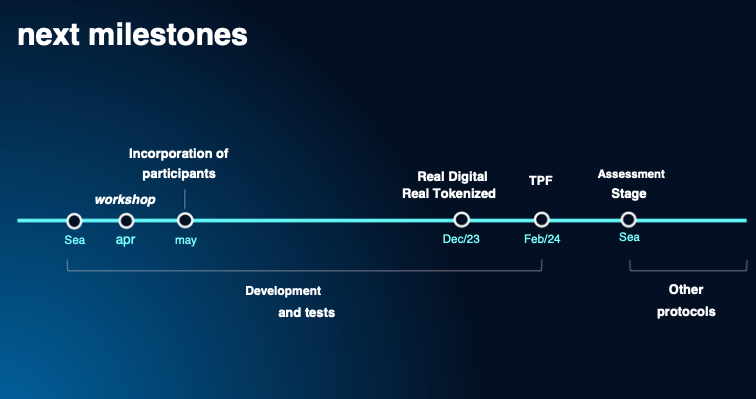 Innovation Lab suspension owing to staffing
The LIFT Lab is a major innovation program, and the digital real pilot was preceded by a LIFT challenge dedicated to CBDC. The suspension of the latest Lab appeared to be abrupt.
Last Tuesday the central bank announced the selection of nine projects for its latest phase, of which three or four were blockchain related. But at the same time it said it was suspending the initiative.
Delays were attributed to "operational and human resource limitations," but the bank didn't provide a schedule for restarting. Instead it mentioned a need to evaluate and replan its ongoing initiatives given its other projects.
Brazil's central bank experienced strikes in 2022, with workers returning after three months without the government agreeing to their demands.
Cavalcante raised the staffing issue when talking about the digital real two weeks ago. "There is no innovation if there is no effort and dedication from qualified people, which in our case here are the specialists from the CentralBank," he said
He added that the central bank's initiatives are used as reference cases internationally (for example, Pix and potentially DREX), and attributed that to the ability of the central bank to attract and retain talent. He referred to the need to pay central bank staff the equivalent for jobs with similar complexity elsewhere.
---