In April, Lufthansa launched a rewards app, Uptrip, that uses Lufthansa NFTs so travelers can collect cards matching the destinations they've visited. The tokens associated with the cards – photos of the destinations – are stored on the Polygon public blockchain. We think it's a neat concept, so we came up with some ideas on how to zing it up a little (shared later).
It's quite a big deal because Lufthansa owns several companies, including Austrian Airlines, Swiss Air, Eurowings, Edelweiss Air and Brussels Airlines. And its loyalty program, Miles & More, boasts 38 million members.
So far, the Uptrip app has only soft launched, with 20,000 users. The cards include images of cities, aircraft or specials, some of which are NFT-related, such as (Nike-owned) RTFKT luggage.
But it isn't purely about Lufthansa NFTs. There are the usual perks you'd expect from airline rewards, such as miles, Wi-Fi access and vouchers for the business lounge, with special rewards for completing collections. And we believe users can collect the photos without adding the NFT aspect, for which they need to connect their own crypto wallets to trade the NFTs. 
Brainstorming NFTs: Let your imagination fly
We couldn't resist brainstorming what we'd do with Uptrip, without worrying about bosses rejecting ideas.
There's a particular demographic that loves collectibles: kids. And a large proportion of business travel is by people who have children. Historically, parents on the move would collect wine labels, drinks coasters or match boxes from their travels, for which their kids would wait expectantly. So what if you turn the rewards app into a family affair, allowing kids to have "friends and family" access.
That would be a brilliant move for Lufthansa. Consider how Mcdonald's combines Happy Meals and playgrounds so that children become lifelong customers.
Which leads to the aesthetics. We downloaded the app, but without a boarding pass, there wasn't much to see. Based on the photos in the promo materials, we'd describe the aesthetics as neutral or safe. That makes sense for an airline rewards app. But maybe not so much for a web3 app.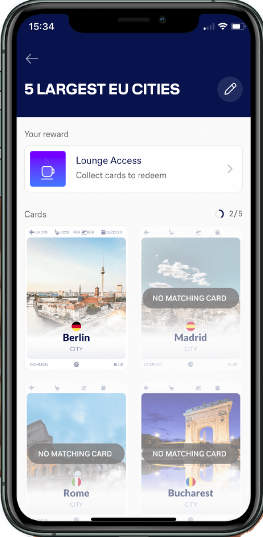 At first we thought it would be great if the photos were National Geographic style. However, National Geographic's own NFT drop didn't go so well. (Because of a combination of the audience viewing NFTs as a scam and technical glitches.)
But perhaps there could be more than one option for the pictures of each city – the safe version, the NationalGeo-style version, the web3 (bright) version, and the kiddy cartoon version. With Generative AI, that's not a big ask.
Meanwhile, Lufthansa is not the first airline to integrate NFTs with rewards. For example, Emirates has also done so.
During the enterprise blockchain hype era of 2018/19, several airlines integrated blockchain with their rewards apps. They included Singapore Airlines, Emirates, Air Asia and Cathay Pacific. It was one of the applications that made a fair bit of sense. That's because many rewards involve benefits through partnerships with other companies. And sharing the transaction records using blockchain can reduce the painful reconciliation process.
---